$39.99
AUD
Category: Graphic Novels
The first volume of the graphic adaptation of Yuval Noah Harari's global phenomenon and smash Sunday Times #1 bestseller, with gorgeous full-colour illustrations and a beautiful package - the perfect gift for the curious beings in your life.One hundred thousand years ago, at least six different species of humans inhabited Earth. Yet today there is only one-homo sapiens. What happened to the others? And what may happen to us?In this first volume of the full-colour illustrated adaptation of his groundbreaking book, renowned historian Yuval Harari tells the story of humankind's creation and evolution, exploring the ways in which biology and history have defined us and enhanced our understanding of what it means to be "human". From examining the role evolving humans have played in the global ecosystem to charting the rise of empires, Sapiens challenges us to reconsider accepted beliefs, connect past developments with contemporary concerns, and view specific events within the context of larger ideas. Featuring 256 pages of full-colour illustrations and easy-to-understand text covering the first part of the full-length original edition, this adaptation of the mind-expanding book furthers the ongoing conversation as it introduces Harari's ideas to a wider new readership. ...Show more
$35.00
AUD
Category: Graphic Novels
A beautifully crafted graphic novel adaptation of Harper Lee's beloved American classic, voted the #1 Great American Read 2018. 'Shoot all the bluejays you want, if you can hit 'em, but remember it's a sin to kill a mockingbird.' A haunting portrait of race and class, innocence and injustice, hypocrisy and heroism, tradition and transformation in the Deep South of the 1930s, Harper Lee's To Kill a Mockingbird remains as important today as it was upon its initial publication in 1960, during the turbulent years of the Civil Rights movement. Now, this most beloved and acclaimed novel is reborn for a new age as a gorgeous graphic novel. Scout, Jem, Boo Radley, Atticus Finch and the small town of Maycomb, Alabama, are all captured in vivid and moving illustrations by artist Fred Fordham. Enduring in vision, Harper Lee's timeless novel illuminates the complexities of human nature and the depths of the human heart with humour, unwavering honesty and a tender, nostalgic beauty. Lifetime admirers and new readers alike will be touched by this special visual edition. ...Show more
$24.99
AUD
Category: Graphic Novels
I Go Quiet is the exquisite story of an introverted girl, struggling to find her place in a noisy world. Through the power of books, creativity and imagination, she begins to see possibilities for herself beyond the present, to a future where her voice will finally be heard.
$24.99
AUD
Category: Graphic Novels
The first ever graphic novel version of Animal Farm - a Times Book of the Year Animal Farm is the story of what happens when the downtrodden animals of Manor Farm overthrow their master, and how their revolution goes horribly wrong. Now George Orwell's dark, timeless fable has been turned into a graphic novel for the very first time, illustrated in full colour by the renowned Brazilian artist Odyr to bring us a whole new work of art. 'This brightly coloured homage to Orwell's timely allegory is heartbreaking and elegant. Odyr's images of animals casting off their bonds and then living with the results of their revolution are painterly and evocative, both loose and illuminating' The New York Times ...Show more
$39.99
AUD
Category: Graphic Novels
In an alternate world where the mere presence of American superheroes changed history, the US won the Vietnam War, Nixon is still president, and the cold war is in full effect. Watchmen begins as a murder-mystery, but soon unfolds into a planet-altering conspiracy. As the resolution comes to a head, the unlikely group of reunited heroes - Rorschach, Nite Owl, Silk Spectre, Dr. Manhattan and Ozymandias - have to test the limits of their convictions and ask themselves where the true line is between good and evil. In the mid-eighties, Alan Moore and Dave Gibbons created Watchmen, changing the course of comics' history and essentially remaking how popular culture perceived the genre. Popularly cited as the point where comics came of age, Watchmen's sophisticated take on superheroes has been universally acclaimed for its psychological depth and realism. Watchmen is collected here with a new cover, sketches, extra bonus material, and a new introduction by series artist Dave Gibbons. ...Show more
$19.99
AUD
Category: Graphic Novels | Series: Sherlock Manga Ser.
The fourth installment of the critically acclaimed manga adaption of BBC Hit Sherlock introduces the femme fatale and the detective's famous rival, Irene Adler Fresh from confronting Moriarty in the end of The Great Game, Sherlock Holmes (Benedict Cumberbatch) and John Watson (Martin Freeman) are calle d to save the royal family from blackmail at the hands of Irene Adler (Lara Pulver), a dominatrix known as "The Woman". Adler pulls Sherlock into a complex web of mysteries involving the CIA and the MOD, with secrets that could threaten to threaten international security and topple the monarchy. ...Show more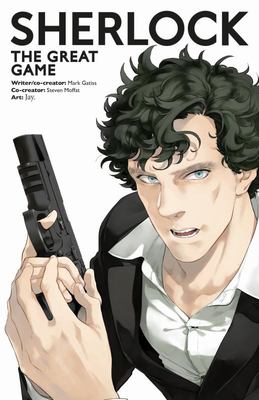 Sherlock: The Great Game
by Steven Moffat (Created by); Mark Gatiss; Jay (Illustrator)
$19.99
AUD
Category: Graphic Novels
Manga adaptation of the third Sherlock BBC episode - printed in English in the US for the first time   A mystery enemy is causing utter chaos for Holmes and Watson. The villain creates a series of clues for the duo to solve - and if they don't solve them, an innocent victim will die. Can Holmes and W atson solve the mysteries - and can they avoid becoming victims themselves? ...Show more
$26.99
AUD
Category: Graphic Novels | Series: Percy Jackson Graphic Novel
The gods of Olympus are alive in the 21st Century. They still fall in love with mortals and have children who might become great heroes, but most of these children meet horrible fates at the hands of monsters by the age of twelve. Only a few learn the truth of their identity and make it to Half Blood Hi ll, a Long Island summer camp dedicated to training young demigods. Such is the revelation that launches young Percy Jackson on a quest to help his real father, Poseidon, avert a war among the gods. With the help of Grover the satyr and Annabeth the daughter of Athena, Percy must journey across the United States to catch a thief who has stolen the original weapon of mass destruction - Zeus' master bolt. Along the way, they face a host of mythological enemies determined to stop them. Most of all, Percy must come to terms with a father he has never known, and an Oracle that has warned him of betrayal by a friend. Follow the author on his blog ...Show more
$27.99
AUD
Category: Graphic Novels
To the millions of readers who fell in love with R J Palacio's Wonder, Julian is best-known as Auggie Pullman's classroom bully. White Bird reveals a new side to Julian's story, as Julian discovers the moving and powerful tale of his grandmother, who was hidden from the Nazis as a young Jewish girl in o ccupied France during the Second World War. An unforgettable, unputdownable story about strength, courage and the power of kindness to change hearts, build bridges, and even save lives, from the globally bestselling author of Wonder. ...Show more
$24.99
AUD
Category: Graphic Novels | Series: Fangirl: the Manga
The manga adaptation of the beloved novel by #1 Bestselling author Rainbow Rowell.   "A deliciously warm-hearted nerd power ballad destined for greatness." -- New York Journal of Books   Cath is a Simon Snow fan. Okay, everybody is a Simon Snow fan, but for Cath, being a fan is her life. Cath's sister has mostly grown away from fandom, but Cath just can't let go. Now that they're in college, Cath must decide if she's ready to start living her own life. But does she even want to if it means leaving Simon Snow behind?  Cath doesn't need friends IRL. She has her twin sister, Wren, and she's a popular fanfic writer in the Simon Snow community with thousands of fans online. But now that she's in college, Cath is completely outside of her comfort zone. There are suddenly all these new people in her life. She's got a surly roommate with a charming boyfriend, a writing professor who thinks fanfiction is the end of the civilized world, a handsome new writing partner ... And she's barely heard from Wren all semester. ...Show more
$29.99
AUD
Category: Graphic Novels
 A superb graphic adaptation  '12th June, 1942: I hope I will be able to confide everything to you, as I have never been able to confide in anyone, and I hope you will be a great source of comfort and support.' In the summer of 1942, fleeing the horrors of the Nazi occupation, Anne Frank and her famil y were forced into hiding in the back of an Amsterdam warehouse. Aged thirteen when she went into the secret annexe, Anne Frank kept a diary in which she confided her innermost thoughts and feelings, movingly revealing how the eight people living under these extraordinary conditions coped with the daily threat of discovery and death. Adapted by Ari Folman, illustrated by David Polonsky, and authorized by the Anne Frank Foundation in Basel, this is the first graphic edition of the beloved diary of Anne Frank. 'Astonishing and excruciating. Its gnaws at us still' New York Times Book Review 'A modern classic' The Times 'Mesmerizing... Polonsky creates unforgettable panels that enable us to see Anne Frank's writing in a fresh light' Frankfurter Allgemeine Zeitung (Germany) ...Show more
$19.99
AUD
Category: Graphic Novels | Series: Geronimo Stilton
Praise for The Sewer Rat Stink:"Fresh, funny, and fast-paced. The free-style artwork and anything-goes story will make kids want to write and draw their own books!" -Dav Pilkey A stinky smell is taking over New Mouse City! No mouse can live like this! Geronimo and his best friend Hercule, the private d etective, head underground into the sewer world of Mouse Island to investigate. Can they save the city from the stench? This is all-new Geronimo Stilton as interpreted by author, artist, and longtime fan Tom Angleberger. Tom is a New York Times, USA Today, and Wall Street Journal bestselling author. ...Show more