$16.95
AUD
Category: Classics
This tale of lost innocence and adulthood gained has its roots in the events of summer, 1948. It is at that time in Montana, childhood home of David Hayden, that the memories of those closest to the then 12-year-old David are revealed, showing him that truth is not what he had believed it to be.
$12.99
AUD
Category: Classics | Series: Popular Penguins Ser.
Truman Capote's masterpiece, In Cold Blood, created a sensation when it was first published, serially, in The New Yorker in 1965. The intensively researched, atmospheric narrative of the lives of the Clutter family of Holcomb, Kansas, and of the two men, Richard Eugene Hickock and Perry Edward Smith, wh o brutally killed them on the night of November 15, 1959, is the seminal work of the "new journalism." Perry Smith is one of the great dark characters of American literature, full of contradictory emotions. "I thought he was a very nice gentleman," he says of Herb Clutter. "Soft-spoken. I thought so right up to the moment I cut his throat." Told in chapters that alternate between the Clutter household and the approach of Smith and Hickock in their black Chevrolet, then between the investigation of the case and the killers' flight, Capote's account is so detailed that the reader comes to feel almost like a participant in the events. ...Show more
$12.99
AUD
Category: Classics | Series: Popular Penguins Ser.
'What's it going to be then, eh?'In this nightmare vision of youth in revolt, fifteen-year-old Alex and his friends set out on a diabolical orgy of robbery, rape, torture and murder. Alex is jailed for his teenage delinquency and the State tries to reform him - but at what cost?Social prophecy? Black co medy? Study of freewill? A Clockwork Orangeis all of these. It is also a dazzling experiment in language, as Burgess creates a new language - 'nadsat', the teenage slang of a not-too-distant future.'Every generation should discover this book' Time Out'A gruesomely witty cautionary tale'Time ...Show more
$12.99
AUD
Category: Classics | Series: Popular Penguins Ser.
Cuando afable profesor Humbert llega a la pequeña ciudad de Ramsdale, New Hampshire, Se permite tener un desliz en una relación con Charlotte Haze, con quien se casa para poder flirtear con la hija de catorce años de la mujer, Lolita, de quien ha quedado rendidamente enamorado,
$12.99
AUD
Category: Classics | Series: Popular Penguins Ser.
Originally written only for his personal consumption, Marcus Aurelius's Meditations has become a key text in the understanding of Roman Stoic philosophy. This Penguin Classics edition is translated with notes by Martin Hammond and an introduction by Diskin Clay.Written in Greek by an intellectual Roman emperor without any intention of publication, the Meditationsof Marcus Aurelius offer a wide range of fascinating spiritual reflections and exercises developed as the leader struggled to understand himself and make sense of the universe. Spanning from doubt and despair to conviction and exaltation, they cover such diverse topics as the question of virtue, human rationality, the nature of the gods and Aurelius's own emotions. But while the Meditations were composed to provide personal consolation, in developing his beliefs Marcus also created one of the greatest of all works of philosophy- a series of wise and practical aphorisms that have been consulted and admired by statesmen, thinkers and ordinary readers for almost two thousand years.Martin Hammond's new translation fully expresses the intimacy and eloquence of the original work, with detailed notes elucidating the text. This edition also includes an introduction by Diskin Clay, exploring the nature and development of the Meditations, a chronology, further reading and full indexes.Marcus Aelius Aurelius Antoninus (121-80) was adopted by the emperor Antoninus Pius and succeeded him in 161, (as joint emperor with adoptive brother Lucius Verus). He ruled alone from 169, and spent much of his reign in putting down various rebellions, and was a persecutor of Christians. His fame rest, above all, on his Meditations, a series of reflections, strongly influenced by Epictetus, which represent a Stoic outlook on life. He was succeeded by his natural son, thus ending the period of the adoptive emperors.If you enjoyed Meditations, you might like Seneca's Letters from a Stoic, also available in Penguin Classics. ...Show more
$12.99
AUD
Category: Classics | Series: Popular Penguins Ser.
Charlotte Bronte (21 April 1816 - 31 March 1855) was an English novelist and poet, the eldest of the three Bronte sisters who survived into adulthood and whose novels have become classics of English literature.The literary heritage of the Bronte sisters entered the treasury of national English culture g aining recognition far beyond England. Particular success fell on the novel written by Charlotte Bronte Jane Eyre which was subsequently filmed. Written with sincerity and passion, the novel does not age and does not lose its charm. This novel is still one of the most popular classical works of the XIX century. The strength of his influence lies in the truth of the senses, in their truth, in the combination of the real with the romantic, in the captivating fascination of history, a simple little governess capable of great and faithful love, having managed, having overcome all the vicissitudes of fate in order to find her own happiness. ...Show more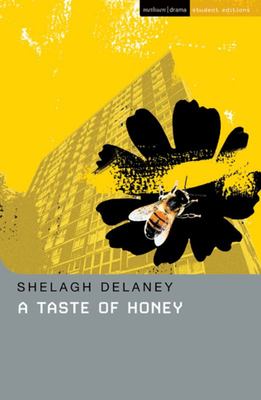 $26.99
AUD
Category: Classics | Series: Student Editions
A Taste of Honey became a sensational theatrical success when first produced in London by Joan Littlewood's Theatre Workshop company. It was made into a highly acclaimed film in 1961. The play is about the adolescent Jo and her relationships with those about her - her irresponsible, roving mother Helen and her mum's newly acquired drunken husband, the black sailor who leaves her pregnant and Geoffrey the homosexual art student who moves in to help with the baby. It is also about Jo's unshakeable optimism throughout her trials.This story of a mother and daughter relationship (imitated in other British plays since) set in working class Manchester continues to enthral new generations of readers and audiences. Now established as a modern classic, this comic and poignant play by a then nineteen-year-old working-class Lancashire girl was praised at its London premiere in 1958 by Graham Greene as having "all the freshness of Mr Osborne's Look Back in Anger and a greater maturity." ...Show more
$19.99
AUD
Category: Classics
Drifters in search of work, George and his simple-minded friend Lennie, have nothing in the world except each other - and a dream. A dream that one day they will have some land of their own. Eventually they find work on a ranch, but their hopes are doomed as Lennie - struggling against extreme cruelty, misunderstanding and jealousy - becomes a victim of his own strength. Tackling universal themes, friendship and a shared vision, and giving a voice to America's lonely and dispossesed, Of Mice and Men remains Steinbeck's most popular work. ...Show more
$12.99
AUD
Category: Classics | Series: Popular Penguins
Gulliver sees life from many different perspectives during the course of his exciting voyages around the world. In Lilliput he is a giant among a race of little people only six inches high; in Brobdingnag he himself seems tiny compared to the giant inhabitants; and in the country of the Houyhnhnms horse s rule and the human creatures there have the status of animals. ...Show more
$19.99
AUD
Category: Classics | Series: Penguin Modern Classics Ser.
A Southern family meet to celebrate 'Big Daddy' Pollit's birthday- Gooper with his wife and children, his brother Brick - an ageing, broken football star - and his wife Maggie. But as the party unfolds the facade of a happy family gathering is fractured by sexual frustration, repressed love, and greed i n the light of their father's impending death. This Student Edition provides an extensive introduction and notes by Philip Kolin, a world authority on Williams. The introduction includes a chronology of Williams' life and times, a summary of the plot, commentary on the characters, themes, language and context, and a production history of the play. Together with questions for further study and notes on words and phrases from the text, this is the essential edition of the play for students of literature and drama. Since being made into a classic Hollywood film starring Paul Newman and Elizabeth Taylor, Cat on a Hot Tin Roof has become one of Tennessee Williams' most celebrated plays. ...Show more
$14.99
AUD
Category: Classics
We grow up on fairy tales but it is only later we realise what we have been fed. Angela Carter saw the power of these dark stories - stories in which objects betray, children threaten, men turn into animals and women are unsafe. Erotic, subversive, ancient, modern- the tales in this book pulse with a vi vid, radical imagination. Turn the key, enter the chamber. Carter untwists our old tales and offers them up with sensuality, depravity, humour - and a mirror held up to ourselves. "From familiar fairy tales and legends Red Riding Hood, Bluebeard, Puss in Boots, Beauty and the Beast, vampires and werewolves Angela Carter has created an absorbing collection of dark, sensual, fantastic stories." ...Show more