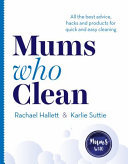 $29.99
AUD
Category: Lifestyle
Most of us don't love cleaning, but it's something that has to be done. So why not share all our trusty tips and clever shortcuts with each other to get the job done quicker? Rachael and Karlie are the creators of Mums Who Clean, the busy Facebook group where hundreds of thousands of Aussie mums swap t heir secrets for keeping their homes fresh and sparkling and dealing with domestic dilemmas. Whether it's soap scum in the shower, stubborn oven mess or kids' slime disasters, these ladies have the solutions - and often they're things you'd never think of trying! Combining all this tried-and-tested advice in one handy guide, Mums Who Clean covers- - The community's top cleaning products and tools, and how to use them for the best results - Exactly how to clean your home, room by room - Budget-friendly cleaning and odour-eliminating recipes - Dealing with unexpected guests and an out-of-control house - Real-estate cleaning - Creating a cleaning schedule for your family Enjoy the most gleaming and organised house you've ever had with Mums Who Clean. ...Show more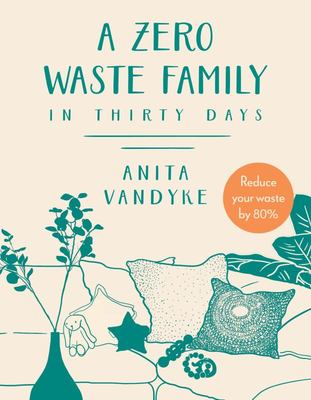 $19.99
AUD
Category: Lifestyle
 Trying to live a zero waste life while simultaneously raising a family can feel almost impossible at times, but Anita Vandyke, bestselling author of A Zero Waste Life, is here to help. A Zero Waste Family is a gentle thirty-day guide highlighting the lessons Anita learned during her first year navigat ing motherhood, while also studying medicine and still trying to reduce her waste. Here she shares innovative ideas about how families can work together to decrease their household waste and make their lives easier, richer and more purposeful, and less full of clutter and distractions. As parents we are constantly juggling the needs of children, work, chores and money. This book is not designed to add to the guilt that we already feel. It's about showing how, by applying zero waste and minimalist principles, being an eco-parent doesn't have to be difficult, and that by making small changes as a family we can make a big difference to our world for our children and future generations.   ...Show more
$24.99
AUD
Category: Lifestyle
A modern classic for a new generation looking for environmentally friendly, thrifty, tried and true solutions for tackling everyday household tasks.  
$35.00
AUD
Category: Lifestyle
 While most Australians live in capital cities, at one time or another we all covet the charm and slower pace of country living. But if a tree change isn't feasible for suburbanites, why not combine the best of both worlds at home? My Suburban Farm is a gorgeous guide to bringing the rustic romance, cra ft aesthetic and home-grown joy of rural life into your very own suburban nook.From the meditative delights of craft to the satisfaction of growing and cooking your veggies, this book celebrates everything handmade, home-grown and heart-warming. Ainslee Costa, creator of the popular My Suburban Farm Instagram account, shares her tips and tricks on everything from candle-making to pottery, hunting for vintage wares to keeping chickens. With My Suburban Farm you'll learn to bring the simple pleasures of the country into any space.   ...Show more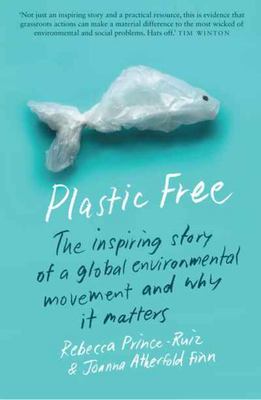 $32.99
AUD
Category: Lifestyle
'I'm going plastic free next month, who wants to join me?' When Rebecca Prince-Ruiz asked her colleagues this question in 2011, she had no idea that less than a decade later it would inspire a global movement of 250 million people in 177 countries to reduce their plastic use. Plastic Free tells the incr edible story of how a simple community initiative grew into one of the world's most successful environmental movements. It also shares tips from people around the world who have taken on the Plastic Free July challenge and significantly reduced their waste.Plastic Free is a book about positive change and reminds us that small actions can make a huge impact, one step – and piece of plastic – at a time.'Not just an inspiring story and a practical resource, this is evidence that grassroots actions by ordinary individuals and communities can make a material difference to the most wicked of environmental and social problems.  Hats off.' — Tim Winton'Some people feel overwhelmed by the environmental state of affairs and wait for politicians or manufacturers to change; others, like Rebecca Prince-Ruiz, take matters into their own hands, starting with their own lives …Use this book to be inspired, or better, use it as a template to change the world in your own way!' — Bea Johnson, author of Zero Waste Home'The more time I spend at sea, the more I realise the solutions start on land. This book will guide you on that journey to making global change for the ocean from your doorstep.' — Emily Penn, ocean advocate, skipper and co-founder of eXXpedition'Plastic Free July inspires me to step up my commitment to reducing single-use plastic in my daily life and on tour.' — Jack Johnson, musician and Plastic Free Foundation ambassador'Plastic Free shows us how to organise around our innate desire for a beautiful, clean environment, and eventually change, in a fundamental way, the system that unnecessarily creates the ugly mess.' — Captain Charles Moore, veteran seafarer and author of Plastic Ocean'Few people have spent as much time as Rebecca Prince-Ruiz trying to work out how to minimise the plastic in our lives.' — Craig Reucassel, comedian and presenter of War on Waste'Plastic Free shows how one person can ripple out and cause good around the globe. Never has there been a more important time to share hope and action, and combine them for our Mother Earth.' — Melissa Joan Hart, actor ...Show more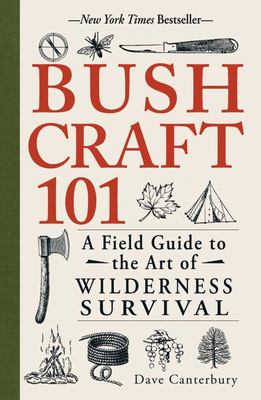 $24.99
AUD
Category: Lifestyle | Series: Bushcraft Ser.
The ultimate resource for experiencing the backcountry! Written by survivalist expert Dave Canterbury, Bushcraft 101 gets you ready for your next backcountry trip with advice on making the most of your time outdoors. Based on the 5Cs of Survivability--cutting tools, covering, combustion devices, contain ers, and cordages--this valuable guide offers only the most important survival skills to help you craft resources from your surroundings and truly experience the beauty and thrill of the wilderness. Inside, you'll also discover detailed information on: * Choosing the right items for your kit. * Manufacturing needed tools and supplies. * Collecting and cooking food. * Protecting yourself from the elements. With Canterbury's guidance, you'll not only prepare yourself for any climate and situation, you'll also learn how to use the art of bushcraft to reconnect with nature in ways you've never imagined. ...Show more
$34.99
AUD
Category: Lifestyle | Series: Low Waste
Simply Living Well is a beautiful and timely motivational guide to living well sustainably and reducing our footprint for the generations to come. Author Julia Watkins shares rituals, recipes, and projects for living simply and sustainably at home. For every area of your household - kitchen, cleaning, w ellness, bath, and garden - Julia shows you how to eliminate wasteful packaging, harmful ingredients, and disposable items. Practical checklists outline easy swaps (instead of disposable sponges, opt for biodegradable sponges or Swedish dishcloths; choose a bamboo toothbrush over a plastic one) and sustainable upgrades for common household tools and products. Projects include scrap apple cider vinegar, wool dryer balls, kitchen bowl covers and cloth produce bags, non-toxic dryer sheets, all-purpose citrus cleaner, herbal tinctures and balms, and more, plus recipes for package-free essentials like homemade nut milk, hummus, ketchup, salad dressings, and veggie stock.  In 2017 Julia started her Instagram account, @simply.living.well, sharing her recipes, projects and thoughts around sustainable healthy living, inspired by wisdom rooted in traditional cultures and that of her own grandparents. Based on her hugely popular Instagram account, Julia's book, Simply Living Well, is a comprehensive collection of her extensive yet accessible knowledge on sustainable living. Complete with her unique inviting aesthetic, it's for every parent, millennial or anyone who cares about the health of of the planet we live on.   ...Show more
$29.99
AUD
Category: Lifestyle
Marie Kondo will help you declutter your life with her new major Netflix series Organise the World with Marie Kondo, coming soonTransform your home into a permanently clear and clutter-free space with the incredible KonMari Method. Japan's expert declutterer and professional cleaner Marie Kondo will hel p you tidy your rooms once and for all with her inspirational step-by-step method. The key to successful tidying is to tackle your home in the correct order, to keep only the things you really love and to do it all at once - and quickly. After that for the rest of your life you only need to choose what to keep and what to discard. The KonMari Method will not just transform your space. Once you have your house in order you will find that your whole life will change. You can feel more confident, you can become more successful, and you can have the energy and motivation to create the life you want. You will also have the courage to move on from the negative aspects of your life- you can recognise and finish a bad relationship; you can stop feeling anxious; you can finally lose weight.Marie Kondo's method is based on a 'once-cleaned, never-messy-again' approach. If you think that such a thing is impossible then you should definitely read this compelling book. ...Show more
$34.99
AUD
Category: Lifestyle
Down-to-earth recipes for a resourceful, tox-free, and waste-free home life. Home by Natural Harry is a compendium of DIY recipes, tips, tricks, and hacks for a calm, resourceful, and tox-free existence. It is a modern reference for anyone who wants to ditch their joyless supermarket habit, reduce plast ic waste, and save money and the world. Home by Natural Harry considers every room of the house (stain remover for the laundry, shower cleaner in the bathroom, dish liquid in the kitchen) and presents alternatives to shop-bought cleaning products, as well as a comprehensive chapter on body care (from toothpaste to shampoo to foaming hand wash). Readers will also be treated to a handful of recipes for Harriet's favorite money-saving kitchen staples including oaty seed loaf, coconut yoghurt, and pickled veg. Home by Natural Harry celebrates a slower, more frugal and thoughtful life--the joys of which people the world over are learning to respect and embrace. ...Show more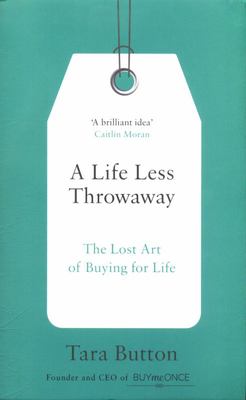 $27.99
AUD
Category: Lifestyle
A revolutionary guide to the art of mindful buying that will teach you how to resist cheaply made goods and make smart, fulfilling purchases that last a lifetime.   With the whole world trying to convince us to spend our way to happiness, we've been left cluttered, stressed, and unfulfilled. Tara Butt on, founder of BuyMeOnce, is at the forefront of the global movement to change the way we shop and live forever. Tara advocates a life of mindful buying that celebrates what lasts, giving you exercises that help you curb impulses, ignore trends, and discover your true style. Once a shopaholic herself, her groundbreaking mindful curation method reveals the amazing benefits of buying for life and will help you:   - Spot the tricks that make you overspend - De-clutter your home - Find the products that serve you best - Rediscover the art of keeping and caring for things - Find happiness, success, and self-worth, beyond buying ...Show more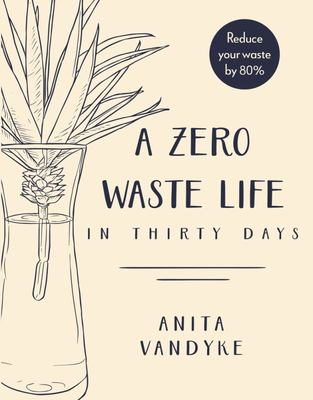 $19.99
AUD
Category: Lifestyle
Anita Vandyke wants to show you that by living zero waste, you actually gain more - more time, more money and more life.A Zero Waste Lifeis the ultimate guide to radically reducing your waste, without losing your lifestyle. In her thirty-day challenge, Anita provides you with the rules, tips and tricks you need to eliminate plastic and live a cleaner, kinder life.This practical book is a call to action with a fresh 'can do? approach. Over thirty days you will learn how to make sustainable, ethical choices when it comes to shopping, eating, travel, beauty and so much more. Small changes can make a big difference, and by following these easy, creative steps we can all do more to save our world. These are the inside tips of a waste warrior and former engineer, whose life has changed from excess to eco-luxe. Isn?t that what we all want - a life of happiness, a life of luxury, a life that isn?t wasted? ...Show more
$35.00
AUD
Category: Lifestyle
Low Tox Life is for anybody who wants to help the environment, from joining the war against plastic, to using planet friendly cleaning products, eating environmentally friendly, and low tox every day care. Ever stopped to read the list of ingredients in the products you use every day? Or maybe you're c onfused by what those ingredients actually are and whether they are good for you? Low Tox Life, by activist and educator Alexx Stuart, gently clears a path through the maze of mass-market ingredient cocktails, providing simple alternatives to the unknown nasties found in everyday products. Focusing on four key areas: Body, Home, Food and Mind, Low Tox Life, is your non-judgmental handbook to limiting the toxic load, for you, your family and the planet. At the forefront of the low tox movement, Alexx shares the latest science and advice from experts in each area, and tackles everything from endocrine-disruptors in beauty products to going low plastic in a high-plastic world, and how to clean without a hint of harmful toxins and avoid the products that are masquerading as non-toxic. To get you started, Low Tox Life shows you how to create low tox household and personal products, like dry shampoo, oven cleaner and even a head lice treatment; recipes for delicious low tox family feasts; and tips for navigating 'greenwashing', ethical shopping, reducing food waste and low toxing your mind. Alexx also shares her story of the health crisis that inspired her dramatic shift to a low tox life. You don't need to be a full-time homesteader with a cupboard full of organic linens to go low tox. Start small, switching or ditching one nasty at a time, and enjoy the process as a positive one for you and the planet.  ...Show more