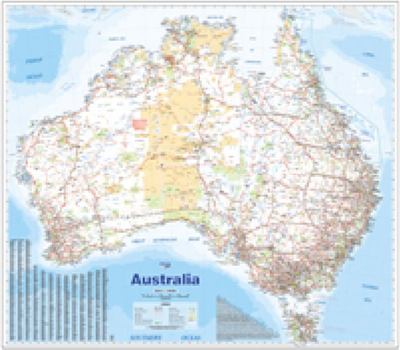 $59.95
AUD
Category: Maps
Large Laminated Wall Map of Australia. Best Scale 1:4500000. Size 875x1000mm. A laminated map of Australia that is ideal as a reference and trip planning tool, with the country's major road networks featured along with Outback fuel, distances and major national parks marked on the map. Comes packaged in a tube. ...Show more
$24.99
AUD
Category: Maps
With so much information to absorb and so many illustrations to look at, this colourful wall map will have kids and adults enthralled for hours! There are over 400 illustrations with accompanying text, as well as flags, country names and capital cities for every nation. All the world's major physical fe atures are illustrated, from the Andes in South America to the Sahara Desert in Africa and kids can have fun spotting the wonders of the world, places of interest, wildlife, global events and even Santa Claus heading off to hand out Christmas pressies! Made in Germany from laminated tear-proof, writable and washable ...Show more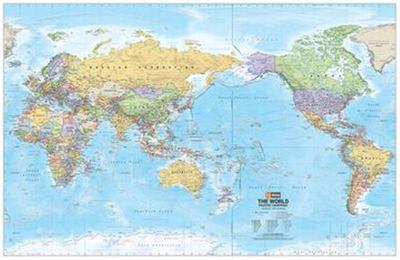 $59.95
AUD
Category: Maps
A world political Pacific-centred map with relief shading to accurately depict each country and ocean's topography, and includes the International Date Line. Hema's World map is perfect as either an educational tool, a reference point or for decoration.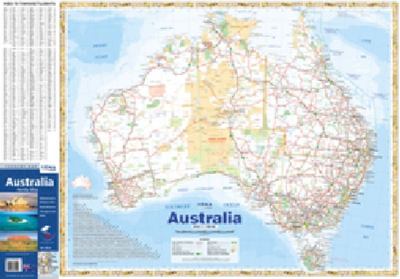 $49.95
AUD
Category: Maps
A laminated map of Australia that shows country's national parks and major road networks with distances for planning. Comes packaged in a tube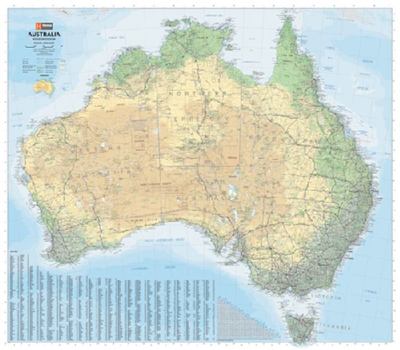 $59.95
AUD
Category: Maps
A picturesque map of Australia that is ideal as a wall map for trip planning, decoration and education. Climate zones are coloured to easily show the variances in temperature and rainfall across the country.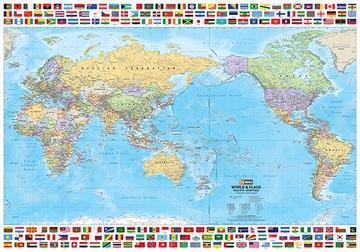 $59.95
AUD
Category: Maps
$12.99
AUD
Category: Maps | Series: Map Ser.
From Lonely Planet, the world's leading travel guide publisher Durable and waterproof, with a handy slipcase and an easy-fold format, Lonely Planet Australia Planning Mapis your conveniently-sized passport to traveling with ease. Get more from your map and your trip with images and information about to p country attractions, itinerary suggestions, a transport guide, planning information, themed lists and practical travel tips. Withthis easy-to-use, full colour navigation tool in your back pocket, you can truly get to the heart of Australia, so begin your journey now! Durable and waterproof Easy-fold format and convenient size Handy slipcase Full colour and easy-to-use Before-you-go info Beautiful imagery Tailored itineraries Can't-miss regional highlights Detailed town index Transport planner Themed lists CoversSydney, Byron Bay, Blue Mountains, Canberra, Melbourne, Goldfields, Great Ocean Road, Murray River, Brisbane, Great Barrier Reef, Whitsundays, The Daintree, Darwin, Kakadu National Park, Uluru-Kata Tjuta National Park, Hobart, Tasmania's Wilderness World Heritage Area, Kangaroo Island, Coober Pedy, South Australia's Wine Regions, Margaret River, Fremantle, Broome Check out Lonely Planet Australia, our most comprehensive guidebook to the country, covering the top sights and most authentic off-beat experiences. Or check out Lonely Planet Best of Australia, a handy-sized guide focused on the can't-miss experiences for a quick trip. About Lonely Planet: Since 1973, Lonely Planet has become the world's leading travel media company with guidebooks to every destination, an award-winning website, mobile and digital travel products, and a dedicated traveller community. Lonely Planet covers must-see spots but also enables curious travellers to get off beaten paths to understand more of the culture of the places in which they find themselves. The world awaits! Lonely Planet guides have won the TripAdvisor Traveler's Choice Award in 2012, 2013, 2014, 2015, and 2016. 'Lonely Planet. It's on everyone's bookshelves; it's in every traveller's hands. It's on mobile phones. It's on the Internet. It's everywhere, and it's telling entire generations of people how to travel the world.' -- Fairfax Media 'Lonely Planet guides are, quite simply, like no other.' - New York Times ...Show more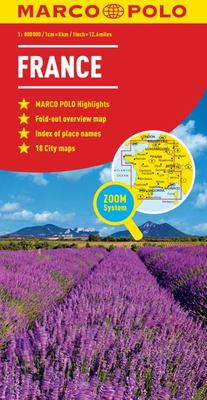 $19.99
AUD
Category: Maps | Series: Marco Polo Maps Ser.
Marco Polo maps feature completely up-to-date, digitally generated mapping. The high quality cartography with distance indicators and scale converters aid route planning. The extensive coverage of the maps enables travellers to cross country boundaries with the same map. A fold-out overview map is ideal for route planning and 7 self-adhesive Marco Polo mark-it stickers can be used to pin-point a destination or route for future reference. Scenic routes and places of interest are highlighted - ideal for touring holidays. Comprehensive index. Contains city maps of: Paris, Strasbourg, Lyon and Marseille. The map scale is 1: 800 000. ...Show more
$34.95
AUD
Category: Maps | Series: Marco Polo Maps Ser.
High quality, laminated, large, flat, rolled map of the World (120 x 80cm) supplied in durable plastic tube. Perfect reference map covering the whole world and showing the political units on each continent, mountain relief and sea depth. Includes national flags of each country as well as country names, capital cities and country codes. Scale 1: 35 000 000. Also includes inset map featuring World Time Zones. Ideal for any classroom, bedroom or office wall. ...Show more
$24.99
AUD
Category: Maps
Wall maps are one of the latest trends when it comes to interior decorating, and now both adults and kids alike can adorn their walls with this beautifully illustrated map of the world. Showcasing more than 300 illustrations of flora, fauna, landmarks and attractions from around the world, the detail on this map could keep anyone enthralled for hours. This map is available for individual sale in a nicely designed tube, or can be ordered as part of a 12-copy dumpbin. ...Show more