$35.00
AUD
Category: Philosophy
A revised and updated edition of this internationally bestselling collection of Nostradamus's most relevant prophecies.The greatest diviner and scryer who ever lived, Nostradamus was born in 1503 in Provence, France, and his prophecies have been continuously in print since his death on 2nd July 1566. Hi s startling predictions for the 21st century included the assassination of Benazir Bhutto, the 2008 financial meltdown, the floods in New Orleans, the Iraq war, the Twin Towers disaster, and the devastating Boxing Day tsunami of 2004 - and he foretold the future for decades to come. ...Show more
$22.99
AUD
Category: Philosophy
A refreshing distillation of insights into the human condition, by one of the best-known and most popular philosophers in the UK. Thinking about life, what it means and what it holds in store does not have to be a despondent experience, but rather can be enlightening and uplifting. A life truly worth l iving is one that is informed and considered so a degree of philosophical insight into the inevitabilities of the human condition is inherently important and such an approach will help us to deal with real personal dilemmas. This book is an accessible, lively and thought-provoking series of linked commentaries, based on A. C. Grayling's 'The Last Word' column in the GUARDIAN. Its aim is not to persuade readers to accept one particular philosophical point of view or theory, but to help us consider the wonderful range of insights which can be drawn from an immeasurably rich history of philosophical thought. Concepts covered include courage, love, betrayal, ambition, cruelty, wisdom, passion, beauty and death. This will be a wonderfully stimulating read and act as an invaluable guide as to what is truly important in living life, whether facing success, failure, justice, wrong, love, loss or any of the other profound experience life throws out. ...Show more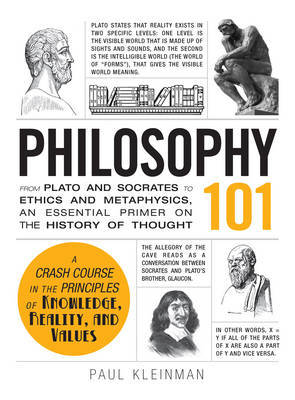 $24.99
AUD
Category: Philosophy | Series: 101
Discover the world's greatest thinkers and their groundbreaking notions! Too often, textbooks turn the noteworthy theories, principles, and figures of philosophy into tedious discourse that even Plato would reject. Philosophy 101 cuts out the boring details and exhausting philosophical methodology, and instead, gives you a lesson in philosophy that keeps you engaged as you explore the fascinating history of human thought and inquisition. From Aristotle and Heidegger to free will and metaphysics, Philosophy 101 is packed with hundreds of entertaining philosophical tidbits, illustrations, and thought puzzles that you won't be able to find anywhere else. So whether you're looking to unravel the mysteries of existentialism, or just want to find out what made Voltaire tick, Philosophy 101 has all the answers--even the ones you didn't know you were looking for. ...Show more
$35.00
AUD
Category: Philosophy
One of the most inspiring and counter-intuitive thinkers of our age, the bestselling author of Seven Brief Lessons on Physics, transforms the way we think about the world with his reflections on science, history and humanity. In this collection of writings, the logbook of an intelligence always on the move, Carlo Rovelli follows his curiosity and invites us on a voyage through science, history, philosophy and politics. Written with his usual clarity and wit, these pieces range widely across time and space: from Newton's alchemy to Einstein's mistakes, from Nabokov's butterflies to Dante's cosmology, from travels in Africa to the consciousness of an octopus, from mind-altering psychedelic substances to the meaning of atheism. Charming, pithy and elegant, this book is the perfect gateway to the universe of one of the most influential scientists of our age. ...Show more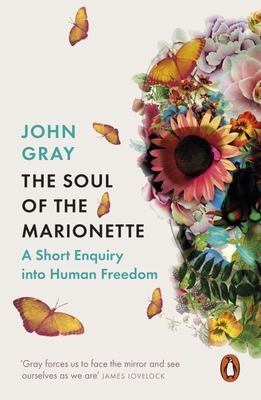 $24.99
AUD
Category: Philosophy
In The Soul of the Marionette, John Gray draws together the religious, philosophic and fantastical traditions that question the very idea of human freedom. We flatter ourselves about the nature of free will and yet the most enormous forces - biological, physical, metaphysical - constrain our every actio n. Many writers and intellectuals have always understood this, but instead of embracing our condition we battle against it, with everyone from world conquerors to modern scientists dreaming of a 'human dominion' almost comically at odds with our true state. This is a stimulating and enraging meditation on everything from cybernetics to the fairground marionettes of the title. ...Show more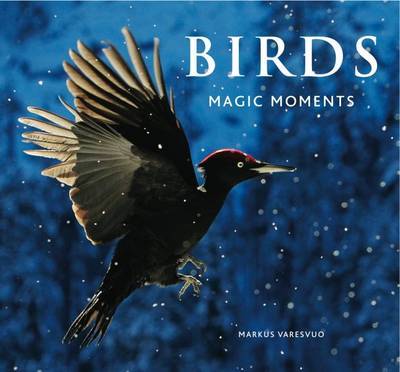 $45.00
AUD
Category: Philosophy
The vibrant and exciting world of birds is shown in all its glory in this new book from renowned Finnish wildlife photographer Markus Varesvuo, who has trekked to remote and beautiful locations to capture birds in their natural habitat going about their daily lives. Moments rarely caught by humans have been preserved on film and reproduced in glorious full-colour images. "Birds: Magic Moments" showcases 150 amazing photographs of birds in the wild. Each bird is identified with its common name and its Latin name, and a short description accompanies each photograph. This book is a celebration of birds in motion and a photographic study of movement that is sure to captivate any bird lover or wildlife photography enthusiast. ...Show more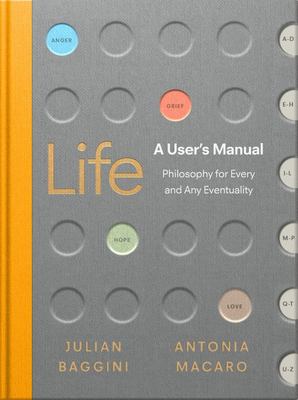 $35.00
AUD
Category: Philosophy
How should I live? What is my purpose? Can I find happiness? Ever felt as though life would be simpler if it came with an instruction manual? There are no easy answers to the big questions. And life does not follow a straight path from A to B. Since the beginning of time, people have asked questions a bout how they should live and, from Ancient Greece to Japan, philosophers have attempted to solve these questions for us. The timeless wisdom that they offer can help us to find our own path. In this insightful, engaging book, renowned existential psychotherapist and philosophical counsellor Antonia Macaro and bestselling philosopher Julian Baggini cover topics such as bereavement, luck, free will and relationships, and guide us through what the greatest thinkers to ever walk the earth have to say on these subjects, from the Stoics to Sartre. Discover advice from the world's greatest thinkers on questions like- Is there a right way to grieve? What is free will? How can we learn from past mistakes? Do we make our own luck? ...Show more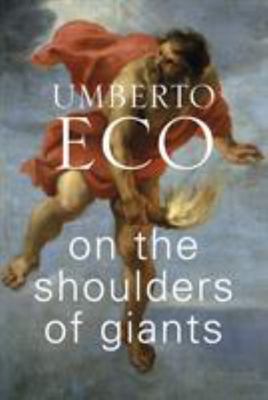 $65.00
AUD
Category: Philosophy
The final collection of essays from the internationally acclaimed and bestselling author of The Name of the Rose and The Prague Cemetery, on the subjects of art and culture. In this collection of essays we find Umberto Eco's perennial areas of interest explored in a lively and engaging style, accompani ed by beautiful reproductions of the art he discusses. In these wide-ranging pieces he explores the roots of our civilization, changing ideas of beauty, our obsession with conspiracies and the emblematic heroes of the great narrative, amongst other fascinating topics. Umberto Eco was one of the most influential, and entertaining, intellectuals of the last century, as well as being a critically acclaimed and bestselling writer of both fiction and non-fiction. ...Show more
$24.99
AUD
Category: Philosophy | Series: Vintage International Ser.
Four seminal plays by one of the greatest philosophers of the twentieth century.   An existential portrayal of Hell in Sartre's best-known play, as well as three other brilliant, thought-provoking works: the reworking of the Electra-Orestes story, the conflict of a young intellectual torn between the ory and conflict, and an arresting attack on American racism. ...Show more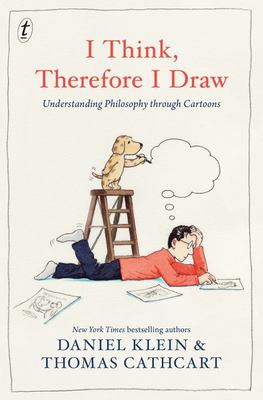 $29.99
AUD
Category: Philosophy
What's the best way to answer some of the biggest questions in life-questions like- Does God exist? What is the meaning of life? Is there a basic principle for all moral decisions? What is the best way to organise society? How do we know what is true? Are there limits to what we can know? Why do things exist? Is there life after death? Is there a design to the Universe? What is a 'self'? What is beauty? What is humankind's place in the cosmos? New York Times bestselling authors Daniel Klein and Thomas Cathcart have the answer-I Think, Therefore I Drawis a hilarious new exploration of philosophy through cartoons-a thorough introduction to all the major debates in philosophy through history to the present day. Packed with humour and loaded with profound philosophical insight, I Think, Therefore I Draw will delight and enlighten readers. ...Show more
$14.99
AUD
Category: Philosophy | Series: I Used to Know That ...
An informative and accessible guide to all of the great philosophers' best-known theories, explained through their most famous quotes. We may have heard of Socrates, Plato, Descartes and Nietzsche, but what did they believe? What were their famous aphorisms? And what did these actually mean? This Book W ill Make You Think: Philosophical Quotes and What They Mean explains as simply as possible the ideas behind the world's most highly regarded philosophers, examining their beliefs and presenting choice quotes that succinctly distil their most famous theories, such as: 'No man's knowledge here can go beyond his experience.' Locke 'If God did not exist, it would be necessary to invent him.' Voltaire 'Whereof one cannot speak thereof one must be silent.' Wittgenstein Written in an accessible and informative style, this book will help readers get to grips with the complex concepts of philosophy through the ages, and help match the theories to the names. ...Show more