$29.95
AUD
Category: Relationships
Simple ideas, lasting love. Between busy schedules and long days, expressing love can fall by the wayside. We forget to compliment, to give gifts "just because," to linger in an embrace. The things that say "I love you" seem to either not get said or not get through. This is an audio book about saying it -- and hearing it -- clearly. No gimmicks. No psychoanalyzing. Just learing to express love in your spouse's language. With over 10 million copies sold, The 5 Love Languages(R) has transformed countless relationships. Its ideas are simple and conveyed with clarity and humor, making this audio book as practical as it is personable. You'll be inspired by real-life stories and encouraged by its commonsense approach. Listening to this audio feels like taking a walk with a wise friend. Applying it will forever change your relationship -- starting today. Includes The 5 Love Languages Personal Profile ...Show more
Heartsick
by Jessie Stephens
$34.99
AUD
Category: Relationships
When Jessie Stephens went through a difficult breakup, she started to look for books or stories that would reflect her experience and perhaps give her some hope for the future. There were plenty of guide books in the '101 tips to cure a broken heart' vein, but what Jessie wanted were stories. She wanted to read about other people's experiences, to see the universalities, and to feel connected to others who were struggling in a similar way. Now she's written the book she needed to read - a close-up, compelling narrative nonfiction account of many lows and occasional surprising highs of heartbreak. Based on intensive interviews with three main subjects, Jessie has woven together three vastly different - yet breathtakingly similar - stories of heartbreak. Claire has returned from London to the dust and familiarity of her childhood home, Toowoomba, after breaking up with her girlfriend Maggie. Patrick is a lonely uni student, until he teams up with Caitlin on a group project - but does she feel as connected as he does? And Ana is happily married with three children, until the night she falls in love with her best friend. Bruising, beautiful, achingly specific but wholeheartedly universal, Heartsick reminds us that emotional pain can make us as it breaks us, and that storytelling has the ultimate healing power. ...Show more
$29.95
AUD
Category: Relationships
Simple ways to strengthen any relationship With more than 10 million copies sold, The 5 Love Languages#65533; continues to transform relationships worldwide. And though originally written for married couples, its concepts have proven applicable to families, friends, and even coworkers. The premise i s simple: Each person gives and receives love in a certain language, and speaking it will strengthen that relationship. For singles, that means you can: Understand yourself and others better Grow closer to family, friends, and others you care about Gain courage to express your emotions and affection Discover the missing ingredient in past relationships Date more successfully and more Whether you want to be closer to your parents, reach out more to your friends, or give dating another try, The 5 Love Languages#65533;: Singles Edition will give you the confidence you need to connect with others in a meaningful way.   "Nothing has more potential for enhancing one's sense of well-being than effectively loving and being loved. This book is designed to help you do both of these things effectively." -- Gary Chapman Includes a quiz to help you learn your love language, plus a section on the pros and cons of online dating. ...Show more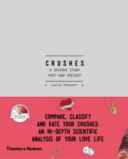 $10.99
AUD
Category: Relationships
You must know the feeling. Butterflies in your stomach, endless daydreaming, uncontrollable blushing, the inability to say anything remotely cool. That's right. You've felt it. It's a crush, and it's driving you crazy. Crushing has probably existed since the beginning of time and our lives would be much duller without it, but it's never been the subject of much serious study... until now. We've made it easy to compile your own in-depth case file, which will dissect your crush history and reveal your deepest darkest secrets. Using your best forensic skills, you'll draw up profiles, compare symptoms, classify and rate your crushes and fill in the graphs and charts we've prepared for you. Are you a sucker for bad boys? Do you have a thing for braces or greasy hair? Do you avoid hairy men? How many boys have you kissed? How long do your crushes last? And most importantly, do your crushes have a crush on you too? This book is your chance to relive the best (and worst) moments of your imaginary love life, and will make a great gift for swooning romantics everywhere. ...Show more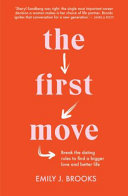 $32.99
AUD
Category: Relationships
Time to rip up The Rules: a powerful social commentary and self-help guide for young women navigating the dating scene by the inaugural editor of Nine's Future Women.
$19.99
AUD
Category: Relationships
The legendary relationships guide that mothers recommend to their daughters, friends give as gifts and brothers steal from their sisters, MEN ARE FROM MARS AND WOMEN ARE FROM VENUS is inarguably the definitive book on having a happy relationship. 'A treasure', 'a bible' and 'an heirloom' are some of the words used to describe the book that has saved countless relationships and improved innumerable others. Now repackaged to relate to a new generation of readers, this phenomenal book continues to carry its legacy of understanding and trust into the world. Since its first publication, over a staggering 15 million copies of MEN ARE FROM MARS, WOMEN ARE FROM VENUS have sold globally to single men and women looking for guidance on how to find the perfect partner, married couples seeking to strengthen their bond, and divorcees hoping to fathom where it all went wrong. Gray's insights into how to allow your other half to "pull away" like an elastic band, prevent your emotional baggage from polluting your current relationship, and translate the phrases of the opposite sex are as relevant now as when they were first published. With straightforward, honest writing from that precious male perspective, Gray unlocks the secrets hidden in your partner's words and actions to enable you both to reach true mutual understanding and a lifetime of love. Discover for yourself why thousands believe that MEN ARE FROM MARS, WOMEN ARE FROM VENUS should be mandatory reading for everyone. ...Show more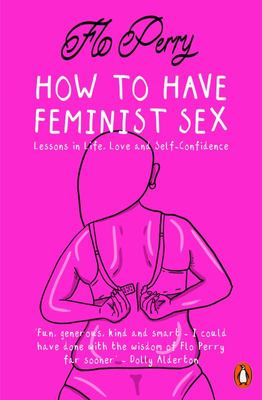 $22.99
AUD
Category: Relationships
'Funny, kind, generous and smart - I could have done with the wisdom of Flo Perry far sooner' Dolly AldertonWe talk about feminism in the workplace and we talk about dating after #MeToo, but women's own patriarchal conditioning can be the hardest enemy to defeat. When it comes to our sex lives, few of u s are free of niggling fears and body image insecurities. Rather than enjoying and exploring our bodies uninhibited, we worry about our bikini lines, bulging tummies and whether we're doing it 'right'.Flo broaches everything from faking it to consent, stress to kink, and how losing your virginity isn't so different to eating your first chocolate croissant. Her mission is to get more people talking openly about what they do and don't want from every romantic encounter. ...Show more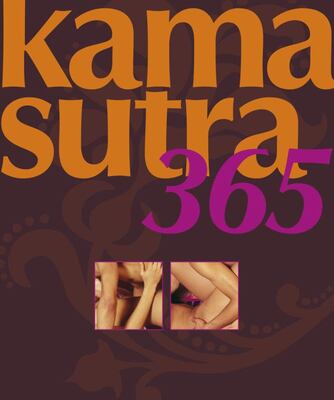 Kama Sutra 365
by Dorling Kindersley Publishing Staff
$19.99
AUD
Category: Relationships
Guided by the ancient wisdom of the Kama Sutra, this lush, gorgeously illustrated guide gives couples a year's worth of awe-inspiring sex positions to breathe new life into their love-making. From the Congress of the Cow to the Splitting of the Bamboo, Kama Sutra 365 is the ideal book for adventurous lo vers. Perfect for supple beginners and seasoned connoisseurs alike. This erotic compendium, laced with sensuous instruction from the ancient lovemaking texts, along with electric, eye-popping photography, offers a unique position to try every day (or night) of the year. Peruse until you find the perfect position, or start from day one and work your way up. Kama Sutra 365 will teach you how to be sensual, spiritual, physical, erotic, exotic, and ecstatic every day of the year. ...Show more
$34.99
AUD
Category: Relationships
"Getting your sex life back on track!Low libido is the most common sexual problem experienced by women. In fact every woman will experience low sexual desire at some time in her life, either in the short term (after the birth of a baby, during a stressful life period, when her relationship is rocky) or in the long term. When a woman's partner wants sex and she's no longer in the mood significant problems can occur in the relationship. Differing sex drives can lead couples down a path paved with frustration, resentment, misunderstanding and despair - a path that may lead to separation and divorce. This book will be helpful for women who- have lost of interest in sex have a partner who wants more sex than they do and it's creating a strain on their relationship would like to increase their level of sexual desire, sexual frequency and sexual pleasure In this book you will learn- how your sexual desire works how to maximise your libido how to increase your sexual enjoyment strategies that will help you to enjoy a regular, satisfying sex life with your partner" ...Show more
Mastery of Love
by Don Miguel Ruiz; Janet Mills
$19.95
AUD
Category: Relationships | Series: Toltec Wisdom Ser.
In The Mastery of Love, don Miguel Ruiz illuminates the fear-based beliefs and assumptions that undermine love and lead to suffering and drama in our relationships. Using insightful stories to bring his message to life, Ruiz shows us how to heal our emotional wounds, recover the freedom and joy that are our birthright, and restore the spirit of playfulness that is vital to loving relationships. The Mastery of Love includes: - Why "domestication" and the "image of perfection" lead to self-rejection - The war of control that slowly destroys most relationships - Why we hunt for love in others, and how to capture the love inside us - How to finally accept and forgive ourselves and others"Happiness can only come from inside of you and is the result of your love. When you are aware that no one else can make you happy, and that happiness is the result of your love, this becomes the greatest mastery of the Toltec: the Mastery of Love." -- don Miguel Ruiz ...Show more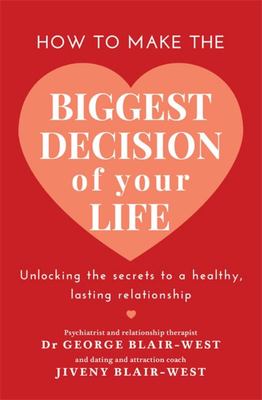 $32.99
AUD
Category: Relationships
Choosing to marry and share your life with someone is one of the most important decisions you can make in life. But with divorce rates approaching 50 per cent in some parts of the world, it's clear many of us need some help picking a partner. In this easy-to-read guide, psychiatrist George Blair-West an d relationship coach Jiveny Blair-West unlock the secrets to making the biggest decision of your life. Think about it. Why is it that we often put more conscious thought into choosing a car than choosing who will be our partner? This book will help you understand what drives your attraction and how to break bad habits by revealing:How attraction works How we can make sense of the unconscious and conscious forces that lead us into our relationships How to avoid marrying people who are a poor match How we can better choose the other parent of our childrenAll meaningful change in life begins with a deepening of understanding, a raising of self-awareness and consciousness. George and Jiveny provide the knowledge to make the unconscious conscious, and give you more power over your relationship destiny. ...Show more