$19.99
AUD
Category: Romance | Series: Bridgertons
Meet Our Hero . . .Gareth St. Clair is in a bind. His father, who detests him, is determined to beggar the St. Clair estates and ruin his inheritance. Gareth's sole bequest is an old family diary, which may or may not contain the secrets of his past . . . and the key to his future. The problem is--it's written in Italian, of which Gareth speaks not a word.Meet Our Heroine . . .All the ton agreed: there was no one quite like Hyacinth Bridgerton. She's fiendishly smart, devilishly in small doses. But there's something about her--something charming and vexing--that grabs him and won't quite let go . . .Meet Poor Mr. Mozart . . .Or don't. But rest assured, he's spinning in his grave when Gareth and Hyacinth cross paths at the annual--and annually discordant--Smythe-Smith musicale. To Hyacinth, Gareth's every word seems a dare, and she offers to translate his diary, even though her Italian is slightly less than perfect. But as they delve into the mysterious text, they discover that the answers they seek lie not in the diary, but in each other . . . and that there is nothing as simple--or as complicated--as a single, perfect kiss. ...Show more
$19.99
AUD
Category: Romance | Series: Bridgertons
A funny thing happened . . . Unlike most men of his acquaintance, Gregory Bridgerton believes in true love. And he is convinced that when he finds the woman of his dreams, he will know in an instant that she is the one. And that is exactly what happened. Except . . . She wasn't the one. In fact, the r avishing Miss Hermione Watson is in love with another. But her best friend, the ever-practical Lady Lucinda Abernathy, wants to save Hermione from a disastrous alliance, so she offers to help Gregory win her over. But in the process, Lucy falls in love. With Gregory! Except . . . Lucy is engaged. And her uncle is not inclined to let her back out of the betrothal, even once Gregory comes to his senses and realizes that it is Lucy, with her sharp wit and sunny smile, who makes his heart sing. And now, on the way to the wedding, Gregory must risk everything to ensure that when it comes time to kiss the bride, he is the only man standing at the altar . . . ...Show more
$19.99
AUD
Category: Romance | Series: Bridgertons
In every life there is a turning point. A moment so tremendous, so sharp and breathtaking, that one knows one's life will never be the same. For Michael Stirling, London's most infamous rake, that moment came the first time he laid eyes on Francesca Bridgerton. After a lifetime of chasing women, of sm iling slyly as they chased him, of allowing himself to be caught but never permitting his heart to become engaged, he took one look at Francesca Bridgerton and fell so fast and hard into love it was a wonder he managed to remain standing. Unfortunately for Michael, however, Francesca's surname was to remain Bridgerton for only a mere thirty-six hours longer -- the occasion of their meeting was, lamentably, a supper celebrating her imminent wedding to his cousin. But that was then . . . Now Michael is the earl and Francesca is free, but still she thinks of him as nothing other than her dear friend and confidant. Michael dares not speak to her of his love . . . until one dangerous night, when she steps innocently into his arms, and passion proves stronger than even the most wicked of secrets . . . ...Show more
$19.99
AUD
Category: Romance | Series: Bridgertons
Can there be any greater challenge to London's Ambitious Mamas than an unmarried duke?--Lady Whistledown's Society Papers, April 1813By all accounts, Simon Basset is on the verge of proposing to his best friend's sister--the lovely and almost-on-the-shelf--Daphne Bridgerton. But the two of them know the truth--it's all an elaborate ruse to keep Simon free from marriage-minded society mothers. And as for Daphne, surely she will attract some worthy suitors now that it seems a duke has declared her desirable.But as Daphne waltzes across ballroom after ballroom with Simon, it's hard to remember that their courtship is a sham. Maybe it's his devilish smile, certainly it's the way his eyes seem to burn every time he looks at her . . . but somehow Daphne is falling for the dashing duke . . . for real! And now she must do the impossible and convince the handsome rogue that their clever little scheme deserves a slight alteration, and that nothing makes quite as much sense as falling in love. ...Show more
$19.99
AUD
Category: Romance | Series: Bridgertons Ser.
Sir Phillip knew that Eloise Bridgerton was a spinster, and so he'd proposed, figuring that she'd be homely and unassuming, and more than a little desperate for an offer of marriage. Except . . . she wasn't. The beautiful woman on his doorstep was anything but quiet, and when she stopped talking long en ough to close her mouth, all he wanted to do was kiss her . . . and more. Did he think she was mad? Eloise Bridgerton couldn't marry a man she had never met! But then she started thinking . . . and before she knew it, she was in a hired carriage, on her way to meet the man she hoped might be her perfect match. Except . . . he wasn't. Her perfect husband wouldn't be so moody and ill-mannered, and while Phillip was certainly handsome, he was rough and rugged and totally unlike the London gentlemen vying for her hand. But when he kissed her . . . she couldn't help but wonder . . . could this imperfect man be perfect for her? ...Show more
$19.99
AUD
Category: Romance | Series: Bridgertons Ser.
Penelope Featherington has secretly adored her best friend's brother for . . . well, it feels like forever. After half a lifetime of watching Colin Bridgerton from afar, she thinks she knows everything about him, until she stumbles across his deepest secret . . . and fears she doesn't know him at all. Colin Bridgerton is tired of being thought nothing but an empty-headed charmer, tired of everyone's preoccupation with the notorious gossip columnist Lady Whistledown, who can't seem to publish an edition without mentioning him in the first paragraph. But when Colin returns to London from a trop aboard he discovers notyhing in his life is quite the same—especially Penelope Featherington! The girl haunting his dreams. But when he discovers that Penelope has secrets of her own, this elusive bachelor must decide . . . is she his biggest threat—or his promise of a happy ending? ...Show more
$19.99
AUD
Category: Romance | Series: Bridgertons
1814 promises to be another eventful season, but not, This Author believes, for Anthony Bridgerton, London's most elusive bachelor, who has shown no indication that he plans to marry. And, in all truth, why should he? When it comes to playing the consummate rake, nobody does it better . . . --Lady Whist ledown's Society Papers, April 1814But this time the gossip columnists have it wrong. Anthony Bridgerton hasn't just decided to marry-- he's also chosen a wife! The only obstacle is his intended's older sister, Kate Sheffield--the most meddlesome woman ever to grace a London ballroom. The spirited schemer is driving Anthony mad with her determination to stop the betrothal, but when he closes his eyes at night, Kate's the woman haunting his increasingly erotic dreams . . .Contrary to popular belief, Kate is quite sure that reformed rakes do not make the best husbands-- and Anthony Bridgerton is the most wicked rogue of them all. Kate is determined to protect her sister--but she fears her own heart is vulnerable. And when Anthony's lips touch hers, she's suddenly afraid she might not be able to resist the reprehensible rake herself . . . ...Show more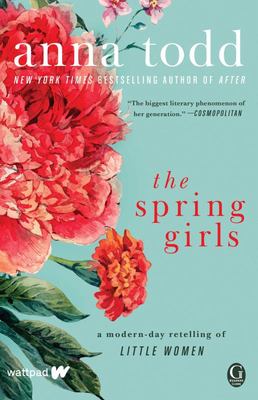 $24.99
AUD
Category: Romance
Four sisters desperately seeking the blueprints to life--the modern-day retelling of Louisa May Alcott's Little Women like only Anna Todd (After, Imagines) could do.   The Spring Girls--Meg, Jo, Beth, and Amy--are a force of nature on the New Orleans military base where they live. As different as they are, with their father on tour in Iraq and their mother hiding something, their fears are very much the same. Struggling to build lives they can be proud of and that will lift them out of their humble station in life, one year will determine all that their futures can become.   The oldest, Meg, will be an officer's wife and enter military society like so many of the women she admires. If her passion--and her reputation--don't derail her.   Beth, the workhorse of the family, is afraid to leave the house, is afraid she'll never figure out who she really is.   Jo just wants out. Wishing she could skip to graduation, she dreams of a life in New York City and a career in journalism where she can impact the world. Nothing can stop her--not even love.   And Amy, the youngest, is watching all her sisters, learning from how they handle themselves. For better or worse.   With plenty of sass, romance, and drama, The Spring Girls revisits Louisa May Alcott's classic Little Women, and brings its themes of love, war, class, adolescence, and family into the language of the twenty-first century. ...Show more
$19.99
AUD
Category: Romance | Series: Bridgertons Ser.
Sophie never dreamed she would be able to sneak into Lady Bridgerton's famous masquerade ball - or that her Prince Charming would be there for her! Alas she knows all enchantments must end when the clock strikes midnight.
$19.99
AUD
Category: Romance | Series: Bridgertons Ser.
From New York Times bestselling author Julia Quinn comes the first novel in the beloved Regency-set world of her charming, powerful Bridgerton family, now a series created by Shonda Rhimes for Netflix. In the ballrooms and drawing rooms of Regency London, rules abound. From their earliest days, childre n of aristocrats learn how to address an earl and curtsey before a prince--while other dictates of the ton are unspoken yet universally understood. A proper duke should be imperious and aloof. A young, marriageable lady should be amiable...but not too amiable. Daphne Bridgerton has always failed at the latter. The fourth of eight siblings in her close-knit family, she has formed friendships with the most eligible young men in London. Everyone likes Daphne for her kindness and wit. But no one truly desires her. She is simply too deuced honestfor that, too unwilling to play the romantic games that captivate gentlemen. Amiability is not a characteristic shared by Simon Basset, Duke of Hastings. Recently returned to England from abroad, he intends to shun both marriage and society--just as his callous father shunned Simon throughout his painful childhood. Yet an encounter with his best friend's sister offers another option. If Daphne agrees to a fake courtship, Simon can deter the mamas who parade their daughters before him. Daphne, meanwhile, will see her prospects and her reputation soar. The plan works like a charm--at first. But amid the glittering, gossipy, cut-throat world of London's elite, there is only one certainty: love ignores every rule... This novel includes the 2nd epilogue, a peek at the story after the story. ...Show more
$19.99
AUD
Category: Romance | Series: Bridgerton Ser.
Once upon a time, a historical romance author created a family . . . But not just any family. Eight brothers and sisters, assorted in-laws, sons and daughters, nieces and nephews (not to mention an overweight corgi) plus an irrepressible matriarch who's a match for any of them . . . These are the Bridge rtons: less a family than a force of nature. Through eight bestselling novels, readers laughed, cried, and fell in love. But they wanted more. And so the readers asked the author . . . What happens next? Does Simon ever read his father's letters? Do Francesca and Michael become parents? Who would win in a Pall Mall grudge match? Does "The End" really have to be the end? Now, with The Bridgertons: Happily Ever After, Julia Quinn delivers eight sexy, funny, and heartwarming "2nd Epilogues" plus a bonus story about none other than the wise and witty matriarch Violet Bridgerton herself. So get to know the Bridgertons all over again--because Happily Ever After is a whole lot of fun. ...Show more
$24.99
AUD
Category: Romance | Series: The\After Ser.
Book Two of the After series-the internet sensation with millions of readers. Tessa didn't plan on meeting H. during her freshman year of college. But now that she has, her life will never be the same.