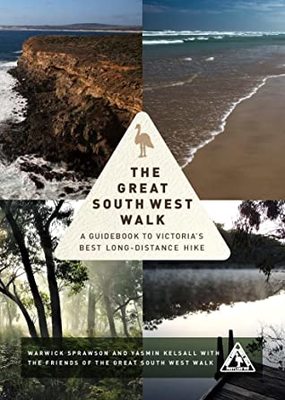 $35.00
AUD
Category: Travel Guide
A comprehensive guide to the Great South West Walk, a 251km hike in south-west Victoria. The guide contains everything needed for the walk, including maps, track notes, history, geology, plants and animals, as well as what to take and how to get there.
$34.99
AUD
Category: Travel Guide
Victoria offers a jaw-dropping diversity of bushwalks through areas rich in natural wonders and colourful human history. Experienced travel writer Melanie Ball has hiked every track in this book for walkers of all levels of experience. There are walks for each part of the state, including the renowned W ilsons Promontory Lighthouse loop and salt lake circuits in the Mallee region. Most of the tracks can be completed in a few hours, but there are some more difficult multi-day walks for those wanting more of a challenge. For each walk there is detailed trail information, a map and photographs that you're likely to see along the way. In this second edition of Top Walks in Victoria, all of the track information has been updated and four new walks have been added. ...Show more
$45.00
AUD
Category: Travel Guide
Loving Country is a book that inspires ultimate respect for Mother Earth and the role of her custodians. While readers are encouraged to discover the sacred country of Australia in an open-minded and sensitive manner, the intention of this book is to foster communication and understanding between all pe oples and country, to bring about a range of environmental and social changes. Co-authors Bruce Pascoe and Vicky Shukuroglou hope to empower communities to tell their own stories, and for people to honour them and the country from which they have grown. Beautifully designed, all of the writing and photography in Loving Country has been created in consultation with communities. From the ingenious fish traps at Brewarrina and the rivers that feed the Great Barrier Reef, to the love stories of Wiluna and the whale story of Margaret River, there is so much to celebrate and admire about the oldest continuing culture in the world. For those who want to do more than a whistle-stop tour of Australia, this book offers some keys to unlock and reveal the heart of this loving country. ...Show more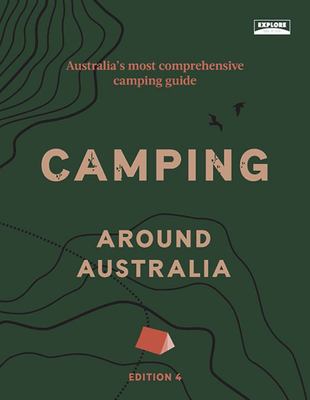 $50.00
AUD
Category: Travel Guide
Now in its fourth edition, Camping around Australia has become the go-to guide for all recreational campers. With over 3200 campsites included across the country, particularly highlighting campsites in national parks and other green areas, the problem isn't finding somewhere to camp - it's deciding whic h one to choose. Basically the only thing the book doesn't do is set up your tent for you! All of the information has been checked and updated by a team of researchers, including all campsite symbols such as free camping and dog-friendly campsites. We've also included a new symbol for wifi access and note which phone companies you will be most likely to get reception with. So whether you're an urbanite wanting to get back to nature, a family wanting to spend quality time outdoors, backpackers wanting to see the real country or roadtrippers looking for budget accommodation, there's no better guide for navigating Australia's campsites.     ...Show more
$29.99
AUD
Category: Travel Guide
Anthony Bourdain saw more of the world than nearly anyone. His travels took him from the hidden pockets of his hometown of New York to a tribal longhouse in Borneo, from cosmopolitan Buenos Aires, Paris, and Shanghai to Tanzania's utter beauty and the stunning desert solitude of Oman's Empty Quarter - a nd many places beyond. In World Travel, a life of experience is collected into an entertaining, practical, fun and frank travel guide that gives readers an introduction to some of his favorite places - in his own words. Featuring essential advice on how to get there, what to eat, where to stay and, in some cases, what to avoid, World Travel provides essential context that will help readers further appreciate the reasons why Bourdain found a place enchanting and memorable. Supplementing Bourdain's words are a handful of essays by friends, colleagues, and family that tell even deeper stories about a place, including sardonic accounts of traveling with Bourdain by his brother, Chris; a guide to Chicago's best cheap eats by legendary music producer Steve Albini, and more. Additionally, each chapter includes sly, witty illustrations by cartoonist Tony Millionaire. For veteran travelers, armchair enthusiasts, and those in between, World Travel offers a chance to experience the world like Anthony Bourdain.   ...Show more
$44.95
AUD
Category: Travel Guide
This book brings together more than 150 of the best walks, tracks or trails in Victoria, which can be walked, cycled or driven by the moderately fit individual. They are located in national and state parks, state forests, conservation reserves, historic parks and local government and public easements. O ther routes follow state highways, old railways and gold routes, or pass bushranger haunts and back roads linking towns, historical and geological or geographical features. Most of the routes chosen do not require specialist navigation or bushcraft skills, and vary from a short 45 minutes on a boardwalk to four-day long-distance walking and camping. Walks, Tracks and Trails of Victoria covers the best the state has to offer, from deserts to coastal and mountain environments. It highlights the features of each location and encourages you to enjoy the experience at an informed level. Easy-to-interpret maps are included to help you navigate. ...Show more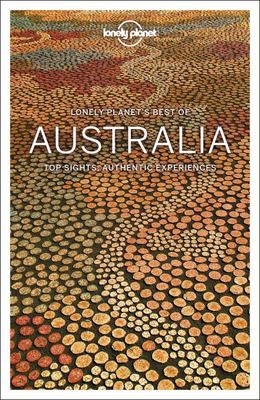 $34.99
AUD
Category: Travel Guide | Series: Travel Guide Ser.
Lonely Planet: The world's number one travel guide publisher* Lonely Planet's Best of Australia is your passport to the most relevant, up-to-date advice on what to see and skip, and what hidden discoveries await you. Explore magnificent Sydney Harbour, see the Great Barrier Reef and watch the sunset at Uluru - all with your trusted travel companion. Discover the best of Australia and begin your journey now! InsideLonely Planet's Best of Australia: Full-colour images throughout Highlightsand itinerarieshelp you tailor your trip to your personal needs and interests Insider tipsto save time and money and get around like a local, avoiding crowds and trouble spots Essential infoat your fingertips- hours of operation, phone numbers, websites, transit tips, prices Honest reviews for all budgets- eating, sightseeing, going out, shopping, hidden gems that most guidebooks miss Cultural insights give you a richer, more rewarding travel experience - history, art, food, wine, sports, landscapes, wildlife Free, convenient pull-out map(included in print version), plus easy-to-use colour maps to help you navigate CoversSydney, Blue Mountains, Canberra, Great Barrier Reef, Daintree Rainforest, Melbourne, Hobart, Uluru (Ayers Rock), Adelaide & South Australia, Perth & Margaret River, Kakadu National Park, and more The Perfect Choice: Lonely Planet's Best ofAustraliais filled with inspiring and colourful photos, and focuses on Australia's most popular attractions for those wanting to experience the best of the best. Visiting an Australian city but just want the highlights?Pockets are smaller guides featuring the top sights and experiences for a shorter break or weekend visit. About Lonely Planet: Lonely Planet is a leading travel media company and the world's number one travel guidebook brand, providing both inspiring and trustworthy information for every kind of traveller since 1973. Over the past four decades, we've printed over 145 million guidebooks and grown a dedicated, passionate global community of travellers. You'll also find our content online, and in mobile apps, video, 14 languages, nine international magazines, armchair and lifestyle books, ebooks, and more. 'Lonely Planet guides are, quite simply, like no other.' - New York Times 'Lonely Planet. It's on everyone's bookshelves; it's in every traveller's hands. It's on mobile phones. It's on the Internet. It's everywhere, and it's telling entire generations of people how to travel the world.' - Fairfax Media (Australia) *Source: Nielsen BookScan: Australia, UK, USA, 5/2016-4/2017 Important Notice:The digital edition of this book may not contain all of the images found in the physical edition. ...Show more
$39.99
AUD
Category: Travel Guide | Series: Ultimate Ser.
In Ultimate Campsites: Australia, Penny Watson maps out 75 of the country's most wild and wondrous nature-based campgrounds, from the turquoise and white sandy beaches of Queensland and pristine national parks of New South Wales, to the wineries of South Australia and the wilderness areas of Tasmania. Ever pitched a tent within a stone's throw of a picturesque waterfall? Ever woken up in a sleeping bag to the gentle sound of waves? Ever seen the sun go down in the desert or fallen asleep in an ancient rainforest? Well, now's the time to tick off these experiences on your camping bucketlist! Each state-by-state chapter in Ultimate Campsites: Australia contains detailed maps and the what-when-why-where information about each campground, alongside tips and anecdotes about the surrounding regions. You'll find special sections dedicated to remote-island campgrounds, as well as sites with great walks and places close by to Indigenous cultural experiences. There are also quick and easy lists for camping with pets, free camping, 4WD access and commercial campgrounds, and handy camping trail itineraries for when you want to tick off two or three campgrounds in one trip. This book is an essential tool for the glovebox, be it in a 2WD or a motorhome. It's also the kind of book that will get plenty of wear and tear on the coffee table while you're planning that next big adventure in Australia's great outdoors. ...Show more
$36.99
AUD
Category: Travel Guide
Australia is mecca for bushwalkers - there are walks crossing every sort of landscape, from rocky deserts to the tropical coast, craggy mountains to verdant rainforest, as well as some shaped by colourful human history. Experienced travel writer Melanie Ball has hiked every track in this book for walker s of all levels of experience. Included are some of Australia's most famous walks, including the Larapinta Trail and Overland Track, plus some undiscovered gems. Most of the tracks can be completed in a few hours, but there are some more difficult multi-day walks for those wanting more of a challenge. For each walk there is detailed trail information, a map, and photographs.   ...Show more
$39.99
AUD
Category: Travel Guide | Series: Country Guide Ser.
Lonely Planet's New Zealand is your passport to the most relevant, up-to-date advice on what to see and skip, and what hidden discoveries await you. Glide through turquoise waters past pods of orcas in Bay of Islands; try black-water rafting in astonishing Waitomo Caves; watch the ground breathe steam i n volcanic Rotorua; and hit the slopes in Queenstown and Wanaka - all with your trusted travel companion. Get to the heart of New Zealand and begin your journey now. Inside Lonely Planet's New Zealand Color maps and images throughout Highlights and itineraries help you tailor your trip to your personal needs and interests Insider tips to save time and money and get around like a local, avoiding crowds and trouble spots Essential info at your fingertips - hours of operation, phone numbers, websites, transit tips, prices Honest reviews for all budgets - eating, sleeping, sightseeing, going out, shopping, hidden gems that most guidebooks miss Cultural insights provide a richer, more rewarding travel experience - covering history, people, music, landscapes, wildlife, cuisine, politics Covers Auckland, Bay of Islands & Northland, Waikato & the Coromandel Peninsula, Taupo & the Central Plateau, Rotorua & the Bay of Plenty, the East Coast, Wellington & Around, Marlborough & Nelson, the West Coast, Christchurch & Canterbury, Dunedin & Otago, Queenstown & Wanaka, Fiordland & Southland Looking for more extensive coverage? Check out Lonely Planet's New Zealand's North Island or New Zealand's South Island for a comprehensive look at all the country has to offer. ...Show more